Joseph A. Murphy
Directly Call/Text Your Attorney
Bar Admissions
Mississippi, 2013
U.S. District Court Northern District of Mississippi
Education
University of Mississippi School of Law – Oxford, Mississippi
University of Mississippi – Oxford, Mississippi
I am attorney Joseph A. Murphy, and I have been licensed to practiced law since 2013.  I spent my first summer of law school with Mike Greer of Greer, Russell & Dent, PLLC in Tupelo, MS.  He offered full-time employment after that internship, which I happily accepted.  My time, experience, and Mike's mentorship continue to be invaluable to me as an attorney today.  In 2016, I accepted a job as general counsel and advisor with Vision Engineering, Inc., a software company serving the heavily regulated medical device industry. My primary job was to wade through the "red tape" that surrounds any federal regulatory agency.  The daily commute and lots of travel was putting a strain on my young family though.
Driving to work one day and praying to God for an answer; a clear question set in. What was stopping me from opening a law practice in Oxford?  The reasons were all based on fear alone; so, in early 2019, my unbelievable wife and I took a leap of faith and opened Murphy's Law, LLC.  Coincidentally, that office was right next to my future and current partner, Warren Smith.
In 2011 I married my best friend and an unbelievable woman, mother and wife, Haley Wiggins. She is the most genuine, selfless, and loving person I know. We have four beautiful children, Cole, Grey, Owen, and Caroline. A steadfast walk with the Father, my family, and helping others are the priorities that make up the core of who I am.  Haley gives me that balance and the hard truth that I need to hear at times to keep my priorities in order.
Being the son of an engineer and with a mother as an attorney, I grew up learning to think critically, never quit anything, keep your promises, and to treat others as you want to be treated. I spent countless hours working with my grandfather, who farmed and seemed to always have a "project" to do before we could go fishing or hunting.  He embedded into me a "can do" attitude and reinforced the character traits of honesty, determination, trustworthiness, and hard work.  At age 12, I convinced a pipeline contractor to hire me during the summer as a "go for" to carry tools up and down the pipelines during my summers.  By 18, I was operating the equipment and passing out orders.  The men I worked with accelerated my maturity and the work itself pushed my physical limits. After graduating high school, I accepted an opportunity to play college football for the U.S. Naval Academy. Injuries made short work of any aspirations I had in football and family needs at home equated an early return to Mississippi two (2) years later. In spite of a family full of Mississippi State bulldogs, I decided to attend the University of Mississippi where I earned a degree in Civil Engineering and then attended The University of Mississippi School of Law. All of these life experiences combine to give me a unique perspective and have formed the attorney I am today and my approach to solving problems.
I look at people's situation by putting myself in their shoes and trying to see the issue(s) as they see them.  After gaining an understanding, I try to explain any unforeseen problems they may also face.  I then lay out the plan that is most likely to get the best results for them and their situation. My approach is typically methodical and efficient, with an emphasis on avoiding costly mistakes.  Presenting my clients' position is most often straight-forward and to the point. I am a life-long student and truly enjoy learning about and then solving problems for people, no matter how big, small, or complex.
Please call today, tell me your problem, and I will assess, rather quickly, if it is something we can help you solve.  I can be reached directly at my cell number, 662.832.7770 or my email, joseph@smithmurphylaw.com.
Sincerely Yours,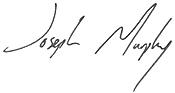 Joseph Murphy